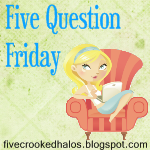 Five Question Friday is a blog carnival started by Mama M - hop over to her blog to see who else is playing!

The Rules? Simple:

Copy and paste the 5 questions listed at Mama M's blog each Friday to your own blog post, answer them, and then link up at Mama M's blog!


Questions for 11/13/09:

1. What is your favorite "eat" on Thanksgiving?
Its a tie between the turkey and the cranberries. Mashed potatoes and sweet potatoes tie for second.

2. What is the name your best girl friend and the best trait about her or how you met (or heck, both!!)
I find this question difficult ... not sure I have just one best friend ... There are several I consider my best girl friends, all a blessing at differrent times in my life.
But there is only one of my friends I cannot remember how we met ... I've just always known her. Her name is Mary, she grew up just down the street from my grandparents. Whenever I visited I would see Mary and as we grew older we'd spend weekends at each others and we'd write letters. She was (and i guess still is) almost two years older than me ... She taught me about lots of stuff ... a great "big sister", we would tell people we were "cousins". We also go into our fair bit of trouble together ... boys, 4wheelers, sneaking out ... I could go on, but I won't :-) When I was looking at colleges I felt completely overwhelmed, ended up attending the collage where Mary was, felt good to have her near by. Hubby and I got engaged that year and Mary was thrilled to be my maid of honor, and last year we named out baby girl after her. Ahhh ... friendship ... a great gift from the Lord!


3. What would you say is one of your "weirdest" quirks?
I can't sleep without covers, even in 100 degree heat, I need at least a sheet or I can't fall asleep.


4. What is your favorite genre of music? (Hip hop? Classical? Rock? etc.)
I am very eclectic ... can listen to and enjoy many kinds of music. But I do tend to choose hymns or praise music if its left up to me.


5. Are you a Night Owl...or an Early Bird?
Oh .... sooooo ... Night Owl!!!! Get me past 11pm and I get a total second wind, am good rill 2 or 3 am. But then I can easily sleep till 10am too. My mom is the exact same way, guess its hereditary.