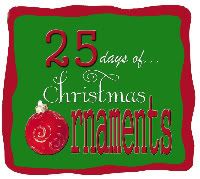 I just love the ideas my friend
Carrie
comes up with!! First the
Alphabitty Moments
and now
25 Days of Christmas Ornaments
. Please visit her blog to see the MckLinky and take part or just to look at all the beautiful ornaments and stories that other bloggers are posting.
This is not exactly an ornament I place
on
my tree but it is an ornament that has graced our front door every year of our marriage. When we were first married we lived out near Seattle WA, where Allen was stationed in the US NAVY. Those first few months were horribly lonely for me, being new to the area and new to married life. Allen was gone for both my birthday and thanksgiving that year, but I did find some treasured friendships in some of the other wives. One friend in particular taught me much over the years. She is a shinning example of a Christ loving mom, wife, woman of God. I still treasure our friendship. And every year when I hang this wreath I can remember picking out the ribbon and ornaments and buying my first hot glue gun ... she helped me make this wreath and many other fun things while our husbands were out to sea. It was especially fun to hang it on our new front door this year!