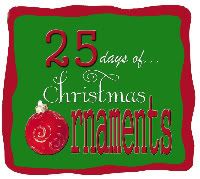 I just love the ideas my friend
Carrie
comes up with!! First the
Alphabitty Moments
and now
25 Days of Christmas Ornaments
. Please visit her blog to see the MckLinky and take part or just to look at all the beautiful ornaments and stories that other bloggers are posting.
I've always loved hanging candy canes on the Christmas tree, and a few years ago my mom bought me some very pretty glass ones. They look so yummy that I have to warn the kids they are not edible. If you hang them just right by a light they really do sparkel (I'll try get a better picture showing that some other time). But one of the other things I like about candy canes is the story behind them ... go ahead google it sometime!
The true meaning of the Candy CaneLook at the Candy Cane

What do you see?

Stripes that are red

Like the blood shed for me



White is for my Savior

Who's sinless and pure!

"J" is for Jesus My Lord, that's for sure!



Turn it around

And a staff you will see

Jesus my shepherd

Was born for Me!